Quality and Integrity since 1949 is more than a marketing slogan for KTA. It represents a moral commitment to quality service and personal integrity that is shared by the people who make KTA a first-in-class company – a company of choice.
Our Commitment to Quality
KTA operates under an extensive quality management system (QMS). Our QMS is based on the requirements of:
ANSI/ISO/ASQ Q9001 – Quality Management Systems – Requirements
10 CFR 50, Appendix B – Quality Assurance Criteria for Nuclear Power Plants & Fuel Reprocessing Plants
SSPC QP-5 – Standard Procedure for Evaluating the Qualifications of Coatings & Linings Inspection Companies
KTA's QMS applies to all services we provide as well as all corporate support functions. Our QMS defines the organizational structure for quality management, defines the responsibilities of personnel, and describes the requirements for the control of our delivery processes. The QMS is comprised of and implemented through three primary components:
The Quality Manual (QM); the overarching document outlining our overall Quality Management System,
Corporate Operating Procedures (COPs), which address responsibilities and requirements applicable companywide, and
Standard Operating Procedures (SOPs), which address responsibilities and requirements applicable to specific Group or Department services.
Training of KTA staff in process implementation is provided initially and on a periodic, refresher basis. The QMS is under continuous review to identify opportunities for improvement and implement changes in accordance with ANSI/ISO/ASQ Q9001 and Nuclear Lead Quality Auditor.
KTA employs a full-time American Society of Quality (ASQ) Certified Quality Auditor (CQA) as the Quality Assurance Manager reporting directly to the President. The QA Manager oversees the development and implementation of the QMS, implementation of the QM, COPs and SOPs, and KTA's internal auditing program. The QA Manager also performs random reviews of project documentation, project sites and client deliverables in controlling quality in accordance with 10 CFR 50, Appendix B.
Our commitment to quality has been recognized on several levels. KTA's QMS has been successfully audited and found to be effective by clients in the nuclear industry, SSPC and other entities. In addition, KTA has achieved industry-recognized certifications applicable to specific areas of practice, as described below.
SSPC-QP5 Coating and Lining Inspection Company Certification*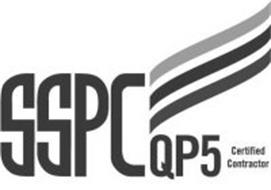 In 2001, KTA became the first company to be certified by the SSPC: The Society for Protective Coatings, under the "Standard Procedure for Evaluating the Qualifications of Coatings and Lining Inspection Companies (SSPC QP-5)."  The SSPC certification program provides an industry-specific adaptation of the ISO QMS concept and includes many of the fundamental topics found in ISO 9001. SSPC QP-5 evaluates the inspection firm's competence in four key areas: Training, Quality Control, Technical Capabilities and Management. The SSPC program continuously evaluates the company's inspection procedures, qualification records, inspection reports, audits, and compliance with internal standard operating procedures. QP-5 certified companies are evaluated by SSPC on an annual basis and through an on-going, unannounced field audit program. KTA is typically subject to four (4) to six (6) independent SSPC field audits per year. In the first 10 years of the SSPC QP-5 program, only 3 coatings inspection companies rose to the rigid standards necessary to achieve certification. Having been subjected to approximately 50 independent SSPC audits since initial certification, KTA's inspection procedures and processes, as well as the successful implementation of our QMS by many different inspectors, have been well vetted.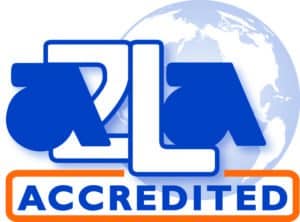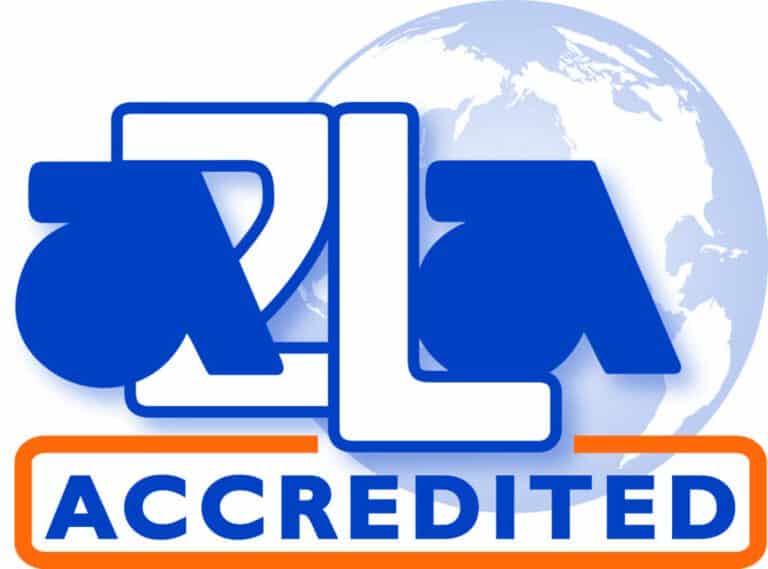 A2LA Cert
Chemical Testing Accredited Laboratory by American Association for Laboratory Accreditation*
KTA's laboratory is accredited by the American Association for Laboratory Accreditation (A2LA) as having met the requirements of ISO 17025 for the scope of testing for paints and coatings as listed on A2LA Certificate #2455.01. In order to achieve this recognition, KTA's Laboratory established and maintains a laboratory-specific Quality Assurance Program in compliance with A2LA and ISO 17025 requirements.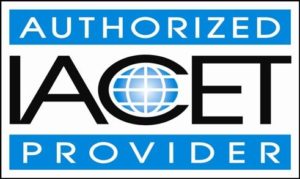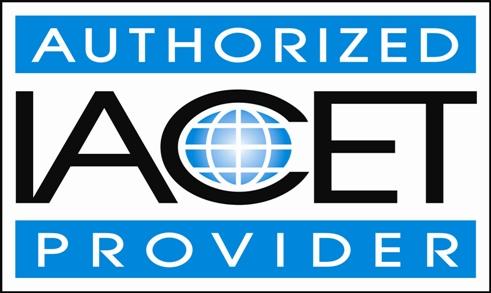 Authorized Provider by the International Association for Continuing Education and Training*
KTA was approved as an Authorized Provider by the International Association for Continuing Education and Training (IACET) in 2006. IACET joined forces with the American National Standards Institute (ANSI) to set standards for courses that award Continuing Education Units (CEUs), including the incorporation of teaching and training methods that impact adult learners and courses that deliver specific, measurable learning outcomes. The resulting ANSI/IACET Standards are widely recognized as standards of good practice internationally.
Operator Qualifications (OQ)
KTA-Tator, Inc. coatings, steel and surveys staff meet client operator qualification (OQ) requirements for covered tasks (49 CFR 192/195) in the pipeline facilities. KTA is an accredited assessment center and training sponsor through The National Center for Construction Education and Research (NCCER). KTA is a member of good standing of the following OQ and supplier evaluation consortiums.
These consortiums have reviewed and approved KTA's pipeline safety programs, employee training, quality assurance program and other information.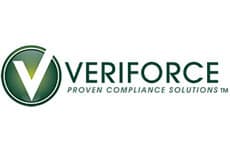 KTA demonstrates its commitment to employee safety through a variety of means. KTA employs not one but two, full-time individuals holding certifications as safety professionals and industrial hygienists (CSP/CIH) to develop training and programs and manage employee safety.
KTA employees receive initial and annual safety training in the hazards associated with their assignments. Many KTA inspectors have completed OSHA 30-hour or 10-hour training and supplemental training.
KTA has established Health and Safety programs to comply with applicable laws and regulations in the general, construction, and pipeline industries.
KTA employees in the field complete job hazard analysis to proactively identify hazards and adequate controls of such prior to the start of work.
Individual Certifications
In addition to appropriate academic perquisites and extensive internal training and development, KTA invests heavily in individual employee pursuit of certifications offered by such recognized organizations as the American Board of Industrial Hygiene, American Society of Nondestructive Testing, American Welding Society, Board of Certified Safety Professionals, NACE International, Pre-stressed/Precast Concrete Institute, SSPC: The Society for Protective Coatings, American Society of quality (ASQ), American Concrete Institute (ACI) and numerous State Boards for Professional Engineers. Further details are available at each of the following links:
Our Commitment to Integrity
KTA adhered to an unwritten code of conduct and moral values long before current procurement regulations attempted to govern business and employee ethics. At KTA, "Integrity" is an unwavering philosophy requiring consistency among actions, methods and values. Simply put, we believe in honesty and fairness. We stand behind the services we provide, and if there is a problem, we make it right. We refuse to lie or deceive. We feel an obligation to our clients that fosters trustworthiness. Even as times change, the ethical path we elect to follow is fundamentally rooted in a desire to be fair in all of our dealings.
In today's culture, some businesses may attempt to attain short-lived gains by acting in an unethical fashion. At KTA, achieving short-term gain by sacrificing long-held values is simply unacceptable. For us, all that matters is maintaining our character traits of honesty and fairness, as opposed to only being ethical when it is convenient, or for the sake of better business outcomes. This full-time commitment is at the essence of the meaning of "Integrity" at KTA.
KTA maintains a formal policy on Business Ethics. As a principle of sound management, we require that all business affairs be conducted in accordance with applicable laws and regulations and to the letter of the high business ethics, honesty, and integrity we embrace. This philosophy begins at the time of initial hiring, where extensive background checks of candidates are made. If there is any evidence of impropriety, offers of employment are not made. All new and existing employees must avoid even the appearance of impropriety, refrain from any unlawful or unethical business activities, and remain free of any and all conflicts of interest, or influences outside the Company that might adversely affect their exercise of prudent business judgment. Our policy provides detailed examples of such activities, interests, and influences. Every employee must sign an attestation acknowledging the affirmative responsibility to be alert for and report any violation of this policy, and any unethical activities by employees, vendors, competitors, subcontractors or customers. In addition, every employee must agree to conduct business in a manner consistent with the Company's commitment to high business ethics, honesty and integrity. This commitment is considered a condition of continued employment at KTA, and participation in any unethical activities is grounds for immediate dismissal. In addition to any criminal prosecution, each employee recognizes and acknowledges that KTA will pursue civil prosecution for unethical activities.
As indicated in the Individual Certifications section description above, nearly all of KTA's professional and field staff is certified by one or more accrediting body. Each of these accrediting bodies has its own Code of Ethics applicable to the professional discipline and scope of accreditation. In addition to the internal policies outlined above, each employee recognizes and acknowledges that KTA will report unethical activities to these accrediting agencies for possible revocation of licenses and certifications.
None of this is of tangible benefit unless it is consistently relayed and reinforced. That is one of the reasons business ethics is an integral part of initial and refresher training, as well as Company meetings, newsletters, and correspondence. More importantly, the actions of supervisors and employees are monitored so that desired values are reflected in the choices we make on a daily basis.