On August 10th 2016, KTA Senior Chemist, Chrissy Stewart, presented a Webinar for Durability and Design entitled "The Relationship Between Aesthetics and Brand Image, and the Coatings to Achieve It." Viewers are encouraged to ask questions at the end of the Webinar, and the Presenter generally answers them following the Presentation. For the Webinar, we received four good questions that we wanted to highlight and make the answers available to everyone. They are listed below.
To view an archived copy of the Webinar, please visit Durability & Design's Archived Recording
Question 1: Are there different tests for Aromatic and Aliphatic color retention?
The instrumentation used to determine color shift of a coating is the same and does not depend on whether the coating is aromatic or aliphatic.  However, if you're looking for an appropriate way to test the coatings, it comes down to looking at the environment and exposure type you want the coating to perform in.  Looking at color retention takes into account the exposure conditions that particular coating will be seeing.  Aromatics have a higher tendency to experience chalking, so an environment with UV exposure may not be the ideal condition for that coating, vs. an aliphatic coating.  However, you may be interested in determining if exposure to certain materials, for example, rock salt on a floor coating, will cause issues with color retention.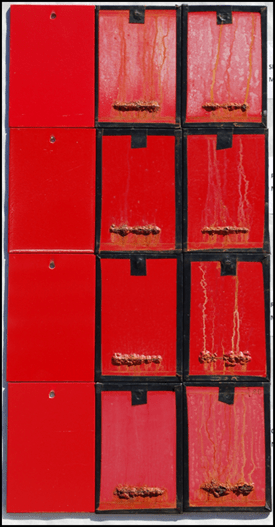 Question 2: What type of warranties are available for fade resistance?
That will be something that varies from product to product.  Each manufacturer will have their own standard for this and warranty their products accordingly.  If you want to establish the criteria for a warranty, you could base it on industry standards such as SSPC Paint 36 (for 2K aliphatic polyurethane), which is no greater than a 2.0 ∆E shift in a minimum of 4 years.
Question 3: What direction is used for the South Florida exposure?
The AAMA specifications referenced in this presentation require that the panels are placed on a rack at 45° facing south.  However, it is important to check any specification prior to beginning exposure to ensure that you are adhering to the correct protocol.
Question 4: What might cause blushing of coating materials?  Is it specific to the coating type? Are there coating materials that are susceptible to chalking other than epoxy?
Let me start with a few definitions from the SSPC Glossary 2011:
BLUSHING
(1) Film defect that appears as a milky opalescence as the film dries; can be a temporary or permanent condition. It is generally caused by rapid evaporation, moisture, or incompatibility; (2) Milky opalescence which sometimes develops as a film of lacquer dries, and is due to the deposition of moisture from the air and/or precipitation of one or more of the solid constituents of the lacquer; usually confined to lacquers which dry solely by evaporation of solvent. [CED] See AMINE BLUSH.
AMINE BLUSH
Surface opalescence (blush) on epoxy films caused by reaction of amine co-reactant with carbon dioxide and water to form an amine carbamate. This can affect adhesion of any subsequent coat if not properly removed.
CHALKING
The formation of loose powder on the surface of a coating, usually caused by degradation of the organic binder by the sun's ultraviolet light. ASTM D 4214 is the Standard Test Method for Evaluating the Degree of Chalking of Exterior Paint Films.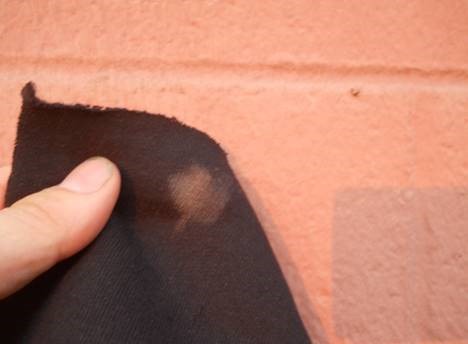 As you can see from the above, blushing can occur on a number of coating types, but in industrial coatings it is most commonly associated with epoxy (amine blush).  Blushing occurs when the amine component reacts with moisture, when something has occurred to interrupt the intended cure process of the coating.  That could be something such as ignoring an induction time, applying the material under conditions that are too cold for that product, or applying in an environment with excess moisture or CO2 levels, such as an enclosed area with a space heater.
Chalking is also most frequently associated with epoxy, but it occurs with a number of coatings when the binder is degraded by UV exposure.  This includes acrylics and aliphatic urethanes, which will chalk in time even though they are generally UV stable.
About the Author: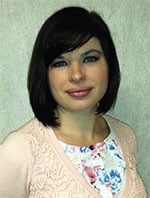 Chrissy Stewart is a senior chemist with KTA-Tator, Inc. Employed with KTA since 2006, she is heavily involved in coating failure investigation and comparative coating testing services. Stewart has achieved SSPC Protective Coatings Specialist (PCS) certification, is a voting member of ASTM and a past president of the Pittsburgh Society for Coatings Technology (PSCT), where she currently serves on the Board of Directors. She holds a Bachelor of Science degree in chemistry from Mercyhurst University, has had several articles published in JPCL and was featured in JPCL's 2015 annual bonus edition, Coatings Professionals: The Next Generation.