Introduction
Occupational lead exposure continues to be an important health concern in the United States.  Based on the number of Occupational Safety and Health Administration (OSHA) citations over recent years, there appears to be significant issues related to lead paint management, as well as other safety and health concerns at shipyards across the country.  In fact, OSHA currently has a National Emphasis Program (NEP) on Shipbreaking.  OSHA's NEP is a series of programs intended to protect the health and safety of workers in certain industries that have been determined to present higher risks to people and the environment.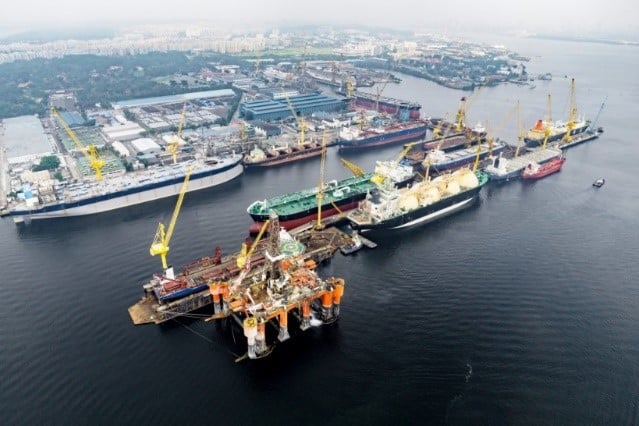 Shipbreaking (also known as ship scrapping, ship disposal, or ship recycling) is any breaking down of a vessel's structure for the purpose of scrapping the vessel, including the removal of any gear, equipment, or any other component of the vessel.  The NEP is directed to all worksites and vessels where shipbreaking operations are conducted.  Inspections of shipbreaking operations focus on 20 identified hazards and workplace activities.   One of these hazards is exposure to lead.  Lead is commonly used in maritime paints as an anticorrosive agent.  Lead is also used in greases, as tetraethyl lead for use as an additive in fuels, and construction of nuclear-powered vessels and submarines to provide radiation shielding.  Inhalation is the most common route of exposure, particularly when applying or removing lead-based paint.  Maritime lead exposures are not limited to shipbreaking.  Shipbuilding, ship repair and shipbreaking are all complex tasks that involve many occupations and a variety of potentially dangerous exposures, including exposure to lead, asbestos, toxic fumes, hazardous materials, noise, falling objects and electrical shock.   
In the United States, marine paint can contain as much as 50-90% lead by weight, as opposed to household paints which are limited to 0.009% lead (per the United States Consumer Product Safety Commission). Overhaul operations of ships, including chipping, grinding, welding, fitting and repainting surfaces can also result in the inhalation of lead.  Flame stripping can vaporize lead paints and chipping or cutting-up where lead paints are present creates lead-containing dusts.  Ship-board painting often occurs in confined spaces and tanks, thus concentrating the fumes.  
Controlling Exposure to Toxic Fumes and Particles While Painting in Shipyards
OSHA dedicates a standard covering painting operations in shipbuilding and repair (29 CFR 1915.35) and lists several controls to limit exposures to toxic fumes and particles during painting at shipyards, including:
Respiratory protection using air-line and air-purifying respirators.

Mechanical air supply and exhaust to ventilate confined spaces during painting operations.

Spray nozzles mounted on extensions to lessen exposures and increase visibility by reducing the amount of paint covering goggles and face shields.

Painting with lead-based paints can be done at night to minimize exposure to other workers.
OSHA's requirements applicable to protection from lead exposure in shipyards are identical to those set forth in the General Industry standard (29 CFR 1910.1025). 
Key Provisions of the Lead Standard Applicable to Shipyard Workers
There are several key provisions of the lead standard that a shipyard worker should become familiar with:
The standard sets a permissible exposure limit (PEL) of 50 micrograms of lead per cubic meter of air (µg/m3), averaged over an 8-hour workday.
The standard sets an action level of 25 micrograms of lead per cubic meter of air (µg/m3), averaged over an 8-hour workday.

If lead is present at any concentration in the workplace where you work, your employer is required to make an initial determination of whether the action level is exceeded for any employee. This initial determination must include air monitoring or results from appropriate air sampling for lead in the past. You must be notified of the results. If the results indicate your exposure exceeds the PEL (without regard to your use of respirators), then your employer must also notify you of this in writing, and provide you with a description of the corrective action that will be taken to reduce your exposure.  

Your employer must also start a Respiratory Protection Program plus provide and assure your use of an appropriate respirator.

If you are exposed to lead above the PEL, your employer must provide, at no cost to you, appropriate work clothing.

Your employer must establish a housekeeping program sufficient to maintain all surfaces as free as practical of accumulations of lead dust.

If you are exposed to lead above the PEL, change rooms, showers, and filtered air lunchrooms must be constructed and made available to you.

Medical surveillance, including detailed work and medical history and blood sampling and analysis, must be made available at least every 6 months if you are exposed in excess of the action level for more than 30 days a year. 

Medical removal protection must be provided if your Blood Lead Level is at or above 40 micrograms per deciliter (µg/dl).

Your employer is required to provide an information and training program if you're exposed to lead above the action level or if you suffer skin or eye irritation from lead.

Appropriate warning signs must be posted in work areas where exposures to lead exceed the PEL.

Your employer is required to keep all records of exposure monitoring for airborne lead.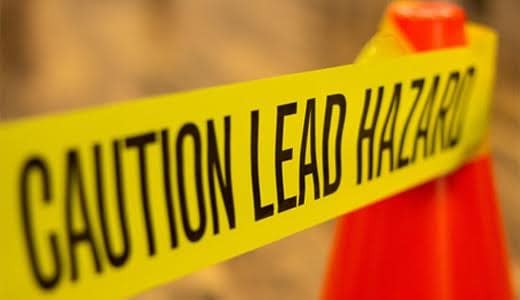 Despite the above provisions, lead exposure cases are becoming increasingly common in shipyards. 
Examples of Lead Exposure Cases at Shipyards
A shipyard faced $700,000 in OSHA fines for exposing workers to lead and other hazards while retrofitting a vessel. Sampling results determined 73% of workers had elevated blood lead levels.  Some results found workers with lead levels 40 to 60 times higher as would be found in an average adult's blood.  Citations included overexposing employees to lead, failure to conduct monitoring, failure to implement a lead compliance and respiratory protection program, and failure to provide training on lead hazards.  OSHA stated management knew of the exposures but were on a tight deadline, so corners were cut to stay on time and budget. 

Lead- and arsenic- laced smoke sent 16 shipyard workers to the hospital after a fire sparked by abrasive blast cleaning.

Civilian workers at a shipyard were exposed to toxins, including lead, for years before action was taken. Lack of proper training and communication is said to have exacerbated the situation. 

Hazardous working conditions resulted in potential over-exposure to airborne lead for multiple personnel from cutting processes that burned paint containing lead. Standard practice calls for the removal of lead paint prior to cutting. A welder at the shipyard showed a Zinc Protoporphyrin (ZPP) level of 99 µg/dL during an annual physical.  ZPP is a biproduct of lead exposure, with an acceptable range of 0-49 mcg/dl.

Workers at a shipyard were allegedly exposed to lead paint hazards when workers were either untrained or not following safe work procedures. Workers were unaware of the specific hazards of working with lead.
Shipyard work is hazardous; OSHA reports the injury-accident rate is more than twice that of general and construction industries.  With over 600 shipyards in the United States, the reports of lead exposures at shipyards, and the negative health effects of lead exposure, there is room for significant improvement to lead paint management and safety and health work practices in the maritime industry.