Coatings Webinars from KTA (Free)
Coatings webinars are a fun, easy way to learn a lot about our industry quickly. This compilation of coatings webinars from KTA-Tator, Inc. always have registration time slots available to choose from. Scroll down to see our complete library of options. Click on any image below to learn more about a particular webinar, and to register (no cost). Upon registration, you'll be emailed a link. If for some reason you're unable to watch the webinar during your chosen time slot, don't worry! You'll also be emailed a full replay within 24 hours of the conclusion of the presentation. Enjoy, and we hope you gain value from our experts.
Please note when registering: we've heard feedback from attendees that when using Explorer and Edge Internet browsers, there are sometimes technical issues. For this reason, we strongly recommend using Mozilla Firefox or Google Chrome Internet browsers for registration and live viewing.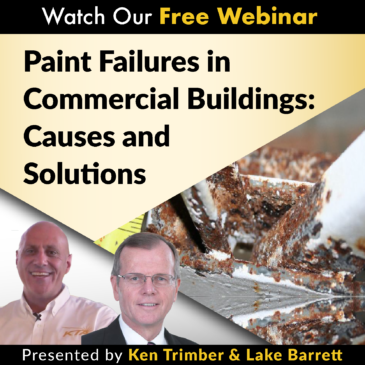 This free coatings webinar, complete with visual photographs and examples, will teach the audience to understand the complexities & challenges of commercial painting & the many substrates involved. And, it will allow them to recognize the common types of building paint failures and how to prevent them. ​​​​​​​
Join KTA's Ken Trimber & Lake Barrett as they cover commercial building problems and challenges like concrete floor coatings failures, moisture intrusion, corrosion of exposed steel, blistering/peeling coatings and efflorescence, and much more!
Set aside an hour for KTA's first ever live coatings webinar! You won't want to miss this informative webinar.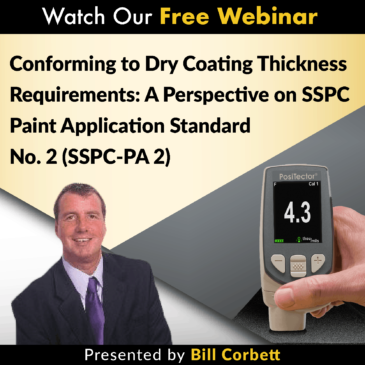 This comprehensive coatings webinar, written and presented by KTA's Bill Corbett, is designed to fill knowledge gaps in regards to the SSPC-PA 2 standard to ensure a complete understanding of this important industry standard.
Attendees will learn how to describe the basic purpose and content of SSPC-PA 2, describe the differences between Type 1 magnetic pull-off and Type 2 electronic gages. describe the procedures and frequency for gage calibration, verification of accuracy, and adjustment, describe the number of coating thickness measurements to obtain and how far out of tolerance the measurements can be and still conform to the specification, describe the procedure for determining the magnitude of a non-conforming area, and describe basic content and purpose of the ten appendices to the standard.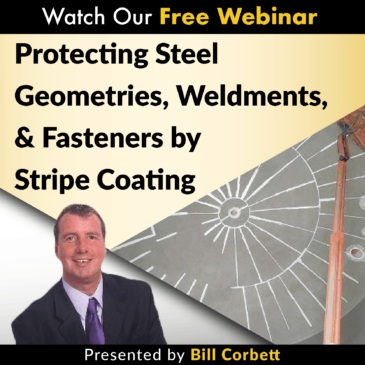 This webinar, featuring KTA COO Bill Corbett, will explore corner/weld preparation and stripe coating as a process to protect these configurations, including specification/project design phase options. It will also highlight the content of the upcoming revision to SSPC Guide 11 on stripe coating, published June 2020.
​​​​​​​Attendance will enable the registrant to identify existing configurations that will benefit from surface grinding and/or stripe coating, select which coating layers should incorporate a stripe coat, consider precautions regarding potential excess film-build when stripe coating, and describe how SSPC Guide 11 can be used by a project designer to incorporate stripe coating into contract documents.
This free webinar, featuring KTA's Carly McGee and Dr. Leah Tipton, discusses the various laboratory tests which are used to evaluate performance, as well as environmental and safety properties of abrasives for the purpose of differentiating abrasives currently available on the market.
Attendees will learn how to identify the various industrial hygiene tests which are used to evaluate potential exposures to airborne containments during blast cleaning, identify the various laboratory tests which are used to evaluate abrasive media performance​, recognize that tests are optional (not required by SSPC, OSHA, etc. standards) and may be conducted for the purpose of leveraging abrasive media marketing and differentiating abrasives currently available on the market.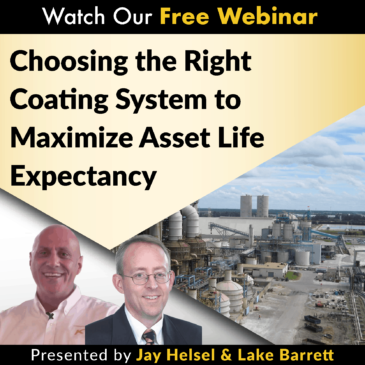 This webinar, featuring KTA's Jay Helsel & Lake Barrett, builds upon previous NACE International presentations on coating selection and life expectancy. The authors explore the root causes of premature coating failures and provide practical considerations to maximize coating life.  The authors incorporate updated cost data from coatings manufacturers, field painters and shop applied coaters to provide cost per square foot guidelines for unique coating systems.  This information is applicable across multiple markets i.e.  chemical plants, pipelines, storage tanks, bridge and highway as well as ISO 12944 with multiple corrosivity categories for unique geographic environments.
If you have any issues while registering or live viewing a webinar, please contact Jason Weslager at jweslager@kta.com.
Please note that there are sometimes issues caused due to attendees using the Microsoft Edge or Internet Explorer browsers to register or view live. We strongly recommend you use either Google Chrome or Mozilla Firefox for these purposes.