Roof Details
The roofing system is a critical component that affects the performance of coatings on both the interior and exterior of buildings, as well as the integrity of the entire building envelope. KTA trained inspectors identify issues with the roofing system such as deficiencies in the coping, parapet flashings, gravel stops, termination bars, and gutters. Deficiencies are identified in detailed reports, providing the owner with the information needed to initiate repairs or warranty claims. KTA can also coordinate roof related repairs on the owner's behalf.
Hidden problems such as damp insulation and leaks can lead to major problems in just a few weeks or months. KTA provides non-destructive forensic investigations to identify hidden problems using moisture meters that use radio-frequency to detect moisture ¾" into the surface, and works with an associate firm to conduct thermograph scans of the roof and walls. Destructive testing includes the collection of core samples for analysis of CMU and insulation.
Join Us For a Free Commercial Webinar!
Click Below to Register for this Learning Opportunity. Multiple dates and times available to choose from!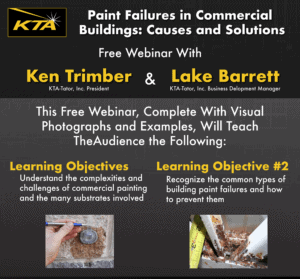 Free Moisture Intrusion eBook