Mackinac Bridge – St. Ignace, Michigan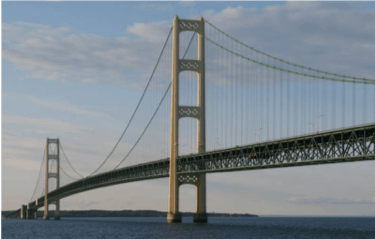 The Mackinac Bridge is a five-mile-long bridge connecting the Upper and Lower Peninsulas of Michigan at the Straits of Mackinac. The bridge carries Interstate 75 across the Straits between Mackinac City (south end) and St. Ignace (north end). It was opened to traffic on November 1, 1957 and is one of the longest suspension bridges in the world. The bridge is operated and maintained by the Mackinac Bridge Authority.
KTA has completed several contracts on this project as the prime consultant, providing QA inspection services during the removal of lead-based paint and recoating of the trusses, spans, and towers of the bridge. KTA provided QA inspection services during the surface preparation and coating application operations on the south span bearing, joint, and substructure repairs project on this bridge. KTA has also provided fall protection, lead worker health and safety, and/or respiratory protection training courses for Authority employees on a periodic basis.