OSHA issued its final rule for Confined Spaces in Construction on May 5, 2015.  The rule is intended to provide construction workers with protection similar to that which manufacturing and general industry workers have had for years, with some differences tailored to the construction industry.
The rule takes effect on August 3, 2015 but full enforcement of the new rule is delayed for 60 days from the effective date (October 2, 2015).  During this 60-day period, OSHA will not issue citations to an employer making good faith efforts to comply with the new standard, as long as the employer is in compliance with either the training requirements of the new standard or the training requirements contained in 29 CFR 1926.21(b)(6)(i).  These requirements include the following:
All employees required to enter into confined or enclosed spaces shall be instructed as to the nature of the hazards involved, the necessary precautions to be taken, and in the use of protective and emergency equipment required. The employer shall comply with any specific regulations that apply to work in dangerous or potentially dangerous areas.
Employers who fail to train their employees to either 29 CFR 1926.1207 or 1926.21(b)(6)(i) would be cited for violation of 1926.1207(a).  Factors OSHA will consider when evaluating whether an employer is engaged in "good faith efforts" to comply with the new standard include:
If the employer has not trained its employees as required under the new standard, whether the employer has scheduled training,
If the employer does not have the equipment required for compliance with the new standard, including personal protective equipment, whether the employer has ordered or otherwise arranged to obtain the equipment required for compliance and is taking alternative measures to protect employees from confined space hazards, and
Whether the employer has engaged in any additional efforts to educate workers about confined space hazards and protect workers from those hazards.
The new standard includes similar requirements to those included in the existing 1910 General Industry standard but does have a few provisions unique to the Construction Industry.  Two of the most important include: (1) multiple employers sharing vital safety information pre- and post-entry and (2) to continuously monitor the space for hazards.
WHO and WHAT IS COVERED in the New Confined Spaces Rule
This standard sets requirements to protect employees engaged in construction activities at a worksite with one or more confined spaces. Examples of locations where confined spaces may occur include: Bins; boilers; pits (such as elevator, escalator, pump, valve or other equipment); manholes (such as sewer, storm drain, electrical, communication, or other utility); tanks (such as fuel, chemical, water, or other liquid, solid or gas); incinerators; scrubbers; concrete pier columns; sewers; transformer vaults; heating, ventilation, and air-conditioning (HVAC) ducts; storm drains; water mains; precast concrete and other pre-formed manhole units; drilled shafts; enclosed beams; vessels; digesters; lift stations; cesspools; silos; air receivers; sludge gates; air preheaters; step up transformers; turbines; chillers; bag houses; and/or mixers/reactors.
This standard does not apply to Construction work regulated by:
1926 subpart P – Excavations
1926 subpart S – Construction Work Associated with Underground Construction, Caissons, Cofferdams and Compressed Air.
1926 subpart Y – Diving
PERSONNEL and COMMUNICATION
One aspect of this new standard that resonates is the identification and definition of specific personnel and their noted responsibilities, as well as the addition of new definitions not contained in the 1910 standard.  There are 49 definitions contained in the construction industry standard, 22 of which are new.  Five of the new definitions involve specific personnel and include (the number indicates how many times in the new standard that the individual is mentioned with a specific responsibility):
Competent Person -4
Qualified Person -1
Host Employer -18
Controlling Contractor – 16
Entry Employer -19
Each of these individuals has specific responsibilities under the new standard and they are succinctly described and require varying degrees of documentation.
Communication between these parties is a significant aspect of this standard.  Information is required to be exchanged both pre- and post-entry as noted in the figure below: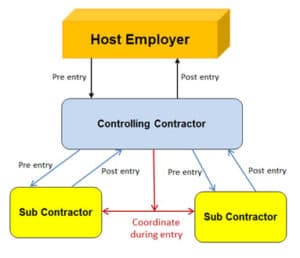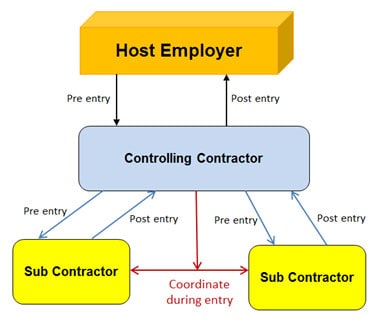 GENERAL REQUIREMENTS
Most, if not all of the general requirements that were contained in the 1910 standard are still in effect in the new standard.  These include:
Written program requirements
Informing exposed personnel of confined spaces
Preventing unauthorized entry
Alternative procedure requirements
Re-evaluation of Non-Permit Spaces
Communication/coordination while spaces are occupied
HIGHLIGHTS OF NEW REQUIREMENTS
Some highlights of the new standard include:
Inerting a Space in order to reduce the atmosphere below 10% of the LEL; however it notes that this may introduce a new hazard that must be addressed via appropriate PPE
Lighting Equipment must meet minimum illumination requirements AND must be approved for the ignitable/combustible properties of the specific gas, vapor, dust or fiber that will be present.
Early Warning System must continuously monitor for non-isolated engulfment hazards and alert entrants/attendants in sufficient time to exit the space.
Continuously Monitor for Atmospheric Hazards unless equipment is not available for such monitoring, but then periodic monitoring is required at intervals necessary to ensure acceptable entry conditions.
Multiple Contractor Entry Personnel, including coordination with the Controlling Contractor when working simultaneously in a permit space.
Training that must be delivered in a language and vocabulary that the employee(s) can understand
Rescue Services:
a. If an outside Rescue Service is secured and becomes unavailable, the Entry Employer must be given immediate notification b.        Non-entry rescue is required unless the retrieval equipment would increase the overall risk of entry or would not contribute to the rescue of the entrant.
USEFUL REFERENCES
The following references are available to assist in developing a Confined Space Program and/or for clarification on requirements of the standards.  It should be noted that the ANSI Standards are consensus standards and should be utilized as best practice guidelines.
29 CFR 1926.1201 thru 1213 – Confined Space s in Construction
29 CFR 1910.146 – Permit Required Confined Spaces
ANSI A10.43 – Confined Spaces for Construction (under development as of 6/1/15)
ANSI Z117.1 2009 – Safety Requirements for Confined Spaces (currently under revision, possible release in 2015)
For a more in-depth look at the new confined space standard for the construction industry, register free for a live, 1-hour webinar produced by JPCL/PaintSquare and delivered by Steve Grego, CSP on August 26, 2015 at 11:00AM EST. Register on-line at www.paintsquare.com/webinars.
like this article? you might also enjoy…
https://ktauniversity.com/overcoating-maintenance-or-mayhem/
https://ktauniversity.com/tools-and-techniques-for-measuring-coating-quality/
https://ktauniversity.com/maintenance-painting-practices-for-offshore-oil-gas-structures-part-one/