The success of a coatings project depends on many factors, none more important than the painting specification document.  A complete, clear and concise specification will give a project a solid foundation that can serve as a basis for success.  Unfortunately, poorly worded language in many specifications does not provide sufficient detail to ensure the success of a coatings project.
The specification should contain an accurate description of the project.  This information should include details about the structure to be prepared and coated.  These details should describe if the structure is new (i.e. will receive a new coating system), if an existing coating system will be overcoated, or if an existing coating system will be removed and replaced.  Simply stating "the tank will be cleaned and painted" does not provide any of these details.  A better description would be:
[highlight style="alice-blue"]"this work consists of the total removal and replacement of the interior lining system for the City of Rivertown 200,000 ground water storage tank." [/highlight]
The details of the work must also be adequately outlined.  For example, the surface preparation should reference industry standards where possible and describe the expected outcome.  A specification that simply states "clean the surface prior to painting," would obviously not provide enough information.  The initial cleaning step should generally reference SSPC-SP 1 for "Solvent Cleaning."  This standard contains useful information that describes how a surface can be adequately cleaned.  A much better way to describe the required cleaning step is:
[highlight style="alice-blue"]"Prior to mechanical methods of surface preparation, clean the surface in accordance with SSPC-SP 1 to remove grease, oil, and other similar surface material [/highlight]
Water may also be used as part of the surface preparation process and in some cases may be the primary method.  But stating simply to "use pressurized water to clean the surface" is not sufficient.  An example of wording that provides more detail is as follows:
[highlight style="alice-blue"] "Thoroughly clean all exterior steel surfaces with clean, potable, pressurized water at 2,000 to 4,000 psi using a fan tip.  Remove all loose coatings, loose rust and all other debris in accordance with SSPC-SP WJ-4 – Light Cleaning." [/highlight]
If blast cleaning is intended for a project where the coating system is to be replaced, simply stating "blast clean the surface" is not sufficient to describe the intended outcome.  When the intent is to remove all existing coatings and apply a high-performance coating system, an applicable standard such as SSPC-SP 6/NACE No. 3 for "Commercial Blast Cleaning," or SSPC-SP 10/NACE No. 2 for "Near White Blast Cleaning" should be specified for blast cleaning.  When this level of blast cleaning is required, the specification also needs to include a surface profile depth.  However, specifying "blast clean in accordance with SSPC-SP 10/NACE No. 2 to produce a surface profile of 2 mils" is not sufficient.  When specifying a surface profile, a range should always be provided, such as
[highlight style="alice-blue"]"blast clean in accordance with SSPC-SP 10/NACE No. 2 to produce an angular surface profile of 1 to 3 mils." [/highlight]
A specification should also define specific manufacturer's products.  Stating "apply an epoxy coating" is not sufficient information to ensure a suitable coating is used.  If epoxy coatings are desired, the specifier should choose appropriate epoxy coatings for the service environment.  Typically, multiple manufacturers' products are included in a specification unless the owner indicates otherwise.  Coatings for a project may also be selected from a pre-established qualified products list (QPL) or approved products list (APL).  An example specifying selection of qualified coatings is:
[highlight style="alice-blue"] "Obtain the coating materials from a paint system listed on the NORTHEAST PROTECTIVE COA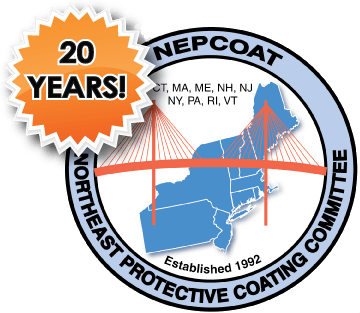 TINGS COMMITTEE (NEPCOAT) – Qualified Products–List B" for Organic Zinc Rich Primer/Epoxy Intermediate/Aliphatic Urethane Finish." [/highlight]

The desired dry film thickness for each coating layer should also be included in the details – but stating "apply the coating at 4 mils dry film thickness" is not practical since even the best applicator cannot apply a coating to a single thickness.  Rather, a thickness range should be stated such as "apply the coating to achieve a 3 to 5 mil dry film thickness."  Thickness ranges should also be consistent with manufacturers published guidance on product data sheets.
Other important coating application details include whether a stripe coat is required.  Specifying to "apply a stripe coat" does not provide enough information for where and when to apply the extra coat.  An example of better language is:
[highlight style="alice-blue"] "Apply a stripe coat by brush to edges, welds, crevices, bolt heads, and other surface irregularities when applying the primer and intermediate coat for abrasive blast cleaned surfaces.  The stripe coat may be applied to the surface by spray provided it is immediately and thoroughly worked into these areas by brush." [/highlight]
After coating work is completed, there is often damage to the newly applied coatings that needs to be repaired.  Stating that the contractor must "repair damaged coating" may not result in adequate repairs.  More comprehensive direction would be provided by the following:
[highlight style="alice-blue"] "Prepare localized damage by solvent cleaning in accordance with SSPC-SP 1 followed by power tool cleaning.  If the damage of previously blast cleaned steel exposes the substrate, clean to bare metal in accordance with SSPC-SP 11.  If the substrate is not exposed clean in accordance with SSPC-SP 3.  Feather the surrounding coating at each repair for a distance of 1 to 2 inches to provide a smooth, tapered transition into intact coating.  Roughen the existing coating to assure proper adhesion of the repair coat(s)."  [/highlight]
In summary, a successful painting specification must be complete and cover all project details. Careful attention to include descriptive language in addressing common problem areas will improve the specification and help a project get started in the right direction, minimize change orders and be completed in a more efficient manner.