Coatings Inspector Qualifications
Training and Certifications Required:
KTA's staff of more than 150 inspectors are trained and certified in accordance with NACE International ("NACE International Coatings Inspector Training and Certification Program – CIP"). KTA has more SSPC Bridge Coating Inspectors than any other inspection company in the world. Many inspectors are also certified in accordance with ASTM D4537 "Inspection Personnel for Coating Work in Nuclear Facilities, Establishing Procedures to Qualify and Certify" (formerly ANSI N45.2.6 "Qualification of Inspection, Examination, and Testing Personnel for the Construction Phase of Nuclear Power Plants"). All KTA inspectors participate in annual coatings refresher and safety training.
Many inspectors have received operator qualification (OQ) in covered tasks in accordance with pipeline safety regulations 49 CFR 192/195. KTA uses multiple pipeline training and assessment programs to qualify personnel through written assessment, performance verification, and certifications to meet client specific pipeline safety requirements. KTA inspectors have  completed the SSPC- C3 Class for Supervisor/Competent Person for Deleading Hazardous Coatings Removal on Industrial and Marine Structures as part of their training regimen.
KTA became the first firm to be certified under SSPC: The Society for Protective Coatings' (SSPC) QP-5 "Standard Procedure for Evaluating the Qualifications of Coatings and Lining Inspection Companies." This program evaluates the inspection firm's competence in four key areas: Training, Quality Control, Technical Capabilities, and Management. KTA has continuously maintained its certification since 2001.
KTA's Coatings Inspector Qualifications:
NACE Coating Inspector Program
NACE Cathodic Protection Program
SSPC Bridge Coating Inspection Program
SSPC-C3, Hazardous Coatings Removal on Industrial and Marine Structures
ASTM D4537/ANSI N45.2.6
Rigorous Annual Coatings and Safety Training
SSPC-QP 5, Level 3
NCCER/Veriforce OQ's
OSHA 30/10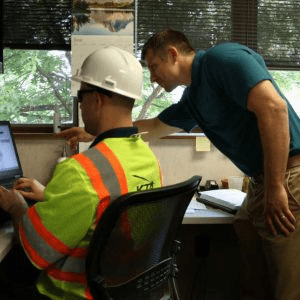 KTA Is Committed To Coating Inspection Staff Development:
High ethical standards, continuing safety and industry education, and mentorship are hallmarks of KTA's Coatings Group.
Safety training is a critical component of KTA's inspector training. Field personnel receive initial Construction Hazard Awareness Training and annual refresher training administered by KTA's Corporate Health and Safety Director. This safety training includes OSHA-mandated topics such as fall protection, confined/enclosed space, lockout/tagout, traffic safety, hearing protection, respiratory protection, hazard communications, electrical, and personal protective equipment.
During the selection and hiring process, KTA assesses past training, experience, and competence of each candidate to determine what additional training is required prior to placing the inspector on an assignment. All inspectors are assessed at least annually to determine if training is needed to meet industry trends or client requests for job specific needs. Annual refresher training is required by KTA in addition to targeted job specific training. It is mandatory that all inspectors, supervisors, and project managers successfully complete the annual training in order to remain eligible for assignments. This includes training in safety, current industry codes and standards, and relevant industry topics, KTA Corporate Operating Procedures, Coatings Group Standard Operating Procedures, and Documentation Skills.
KTA's Coatings Group is committed to the continuous internal development of our inspection staff, and closely monitors performance under a rigorous Quality Management System (QMS) that meets the requirements of:
ISO 9001
SSPC-QP 5, Inspection Company Qualification
ASME NQA-1, Nuclear Quality Assurance
10 CFR 50, Appendix B, Quality Assurance Criteria for Nuclear Power Plants and Fuel Reprocessing Plants
10 CFR 21, Reporting of Defects and Noncompliance
The QMS is implemented through the Quality Manual, Corporate Operating Procedures (COPs), and Group Standard Operating Procedures (SOPs) that address responsibilities and requirements applicable to the specific Group or Department Services to meet the QMS Requirements.